It's time to bring pancakes back in our family's lives because, well, they're epic. Pancakes are nostalgic, delicious, comforting, and memories are created around them. We love pancakes but we don't love how unhealthy they are for you.

So, we rounded up the Internet's most delicious, healthiest pancakes for you to bookmark (listed at the bottom of this post). Then for the sake of (ah-hem) research, we made some.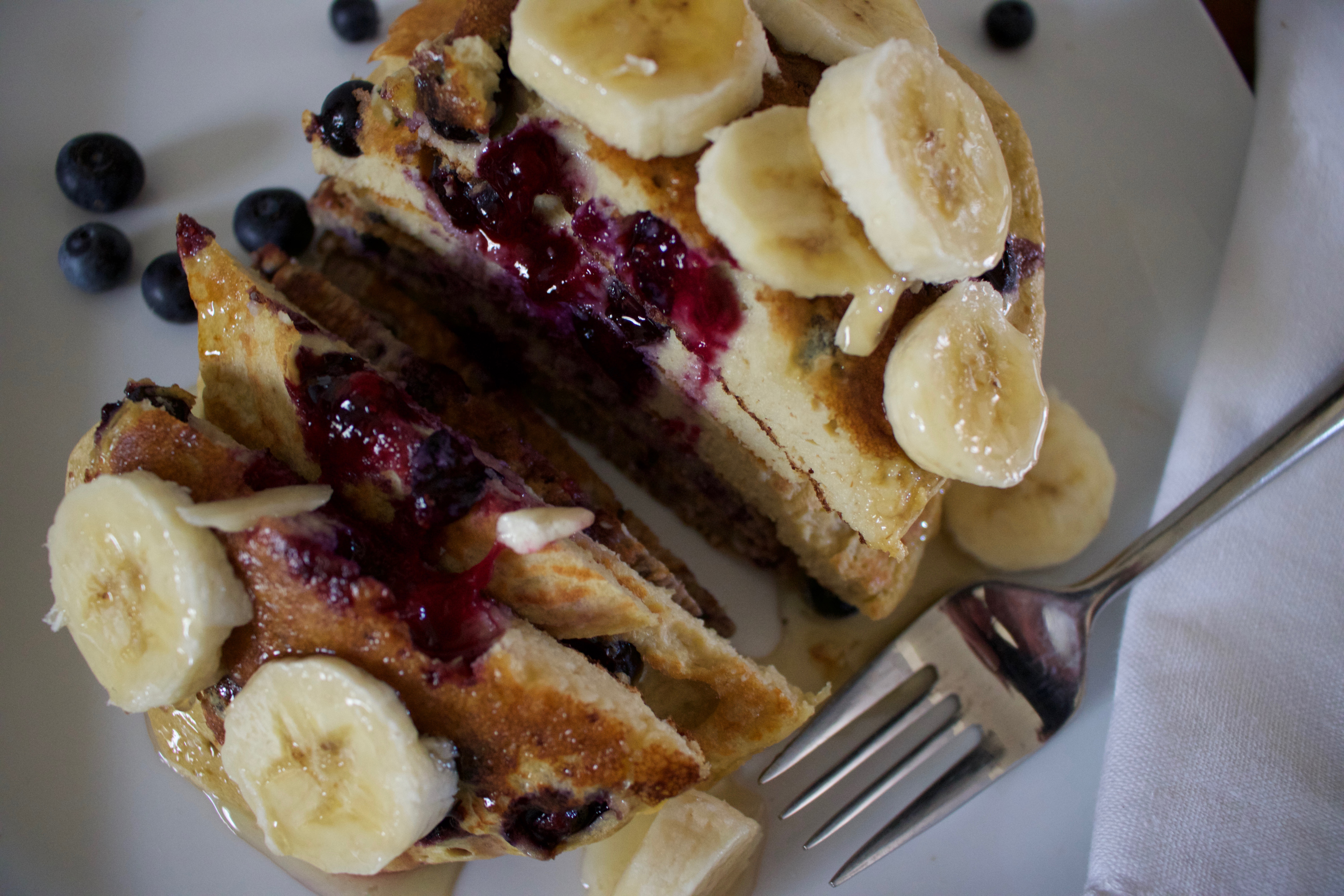 This blueberry yogurt pancake recipe is simple to make and even easier to devour.


And because when you really love them, you say it with honey.
Blueberry Banana Greek Yogurt Pancakes (via Running With Spoons)
Ingredients:

1/4 cup (60 g) plain Greek yogurt

1/2 medium, ripe banana (50 g or 1/4 cup [60 ml] mashed)

1/2 cup (40 g) rolled oats 2 large egg whites OR 1 large egg

1-2 Tbsp (15-30 ml) unsweetened almond or cashew milk

1/2 tsp baking powder

1/2 tsp vanilla extract

1/4 cup (35 g) blueberries, fresh or frozen Directions:

1. Preheat a skillet over medium heat and coat it with cooking spray or oil. You want to make sure that it's very hot before you start cooking your pancakes.

2. Add all the ingredients except for blueberries to a blender in the order listed and blend on high until the oats are fully broken down and the batter is smooth and frothy, about 1-2 minutes. Fold in the blueberries by hand and allow batter to sit for a few minutes so that it thickens up.

3. Pour batter straight from blender onto skillet until desired size of pancakes is reached and cook until the edges have set and bubbles begin to form on the tops of the pancakes, about 3 minutes. Using a spatula, flip and cook for another 2 minutes. Repeat until all the batter is gone, making sure to coat your skillet again with oil between each batch. Top with desired toppings and enjoy!
Dairy Free Cashew Milk Whipped Topping
Ingredients:

2 cups whole, raw, unsalted cashews

1 cup white grape juice1 tsp. vanilla extract Directions:

1. Rinse and drain the cashews in cold water.

2. Add all ingredients to your blender.

3. Blend for 2-3 minutes or until smooth and creamy.

4. Freeze for 15 minutes before serving.